Sep 28, 2016
There is something almost magical about autumn. The leaves change color from green to yellow, orange and varying shades of red, the air smells crisp, smoke fills the air as fireplaces take center stage in many homes…  Unless you live in the south-eastern suburbs of Melbourne. Which is where I live. In that case, you can expect to see trees that are for-ever green and never change color because, well, Australian trees are mostly evergreens. The air doesn't necessarily smell crisp either; it smells wet. As for fireplaces… Well, have you heard of "ducted heating"? Needless to say, autumn in Australia is not as fabulous as it is in Romania, where I first fell in love with this magical season, nor in America. But that didn't stop me from creating my new Autumn Preschool Centers resource! It's spring in Australia, but I promised that I would make this resource in time for autumn in the U.S, so here it is! I had so much fun creating this packet and I hope your kiddos enjoy using it 🙂
(Please note: This post does not contain all the pages included in my Autumn Preschool Centers, just a few sample pages! If you wish to purchase the complete Autumn Preschool Centers packet, please click here!)
To begin, I included an autumn leaf fine motor practice mat. We all know how important it is to build those fine motor muscles, right? I used red and orange buttons for this mat, but you can use anything that fits inside the circles. (Click the photo to get it!)
I also added a vertical pre-writing line tracing mat. I just know that your kiddos will have fun tracing down the line to show the leaf where it should fall 😉
Of course, I included some horizontal pre-writing tracing cards too. (Click the photo to get it!)
I also included some autumn themed alphabet tracing cards. Each card displays an autumn related picture and each upper and lower case letter displays correct letter formation with a red dot to show the starting point. To secure the cards together, I made a hole with a hole punch in each card and strung them onto a key-ring. (Click the photo to get A-F)
I also made an upper and lower case matching activity and, if your kiddos are ready for it, you can add the beginning sound pictures too. If you'd like to work on fine motor muscles, just glue the leaves onto some clothes pegs, as I did. (Click the photo to get A-D.)
Two words: sight words. Kiddos need to learn them to read, right? This Preschool Autumn Centers set includes a total of 40 words to help get your kiddos started! The focus is on 1-1 correspondence and letter order. (Click the photo to get some sample pages.)
Next up, are number tracing cards for numbers 1-10. Each card displays a picture of an apple half with the number of seeds displayed on the card. These cards also show correct number formation with a starting dot. (Click the photo to get numbers 1-3.)
I decided to also include an actual apple seed counting activity. I have included apple seed pictures which you can use or, if you prefer, you can use real apple seeds. (Click the photo to get it!)
I think my favorite activity from the Autumn Preschool Centers packet is the pumpkin seed number sorting activity with different number representations. (Click the photo to get numbers 1-3.)
Also included is a squirrel and acorn shape sorting activity. I decided to use shapes in real life in this packet. (Click the photo to get the shapes pictured.)
Color matching is a must for any preschool packet. Especially autumn colors! This packet includes all colors, but you could use only the red, orange and yellow tree and leaves if you wish! (Click the photo to get red, orange and yellow!)
I have also included a few AB pattern cards featuring different autumn leaves…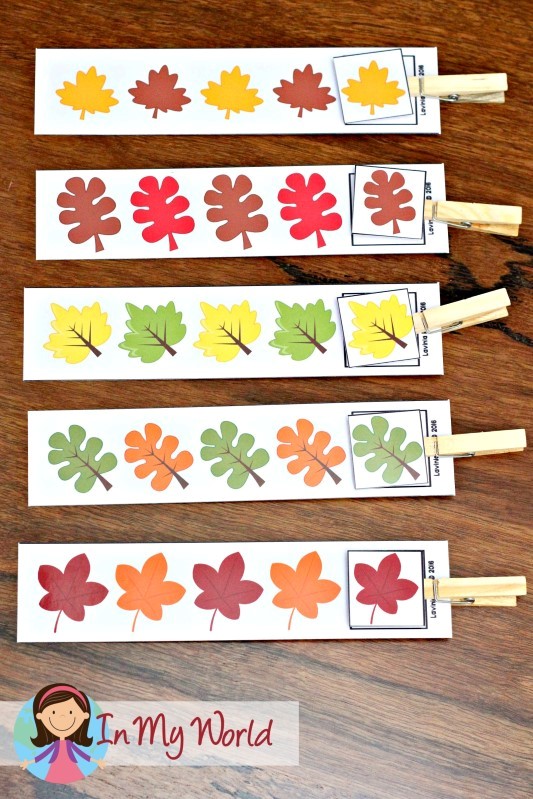 A "Which picture is different?" card set…
… that can be made "self-checking" by adding a dot on the back of the correct picture.
I have also added a set of "What doesn't belong" cards.
And, to finish, I included some sequencing cards to show the life cycles of an apple and pumpkin.
Thank you so much for stopping by to check out this resource! I hope it's something that your kiddos will love and enjoy using!
Please note, this Autumn Preschool Centers post contains links to a some sample pages from the unit. To purchase the complete unit, click here or on the picture below.
27 Responses to "Autumn Preschool Centers"