May 5, 2014
We are back from our very long break! Let's just say one of us (not me) was very keen to get back into it and kept nagging to do school work!
And so, we started out Preschool Letter of the Week G with a beginning sounds basket.
Filip took out the items one by one we named the items together. That hamster lookin' thing is actually a g-g-g-guineapig and NOT a g-g-g-hamster! 🙂
We used our much loved Alphabet Play Dough Mats to finger trace…
And then we used white board markers…
Filip also did a letter identification worksheet using dot paints.
And a beginning sounds worksheet! Letter g is available here, but if you'd like the complete unit, you can get it in my TpT store here!
The Measured Mom now has lowercase letters available and we were so delighted to have them!!
And then – something new and oh-so-exciting!!! We are learning to read!!! CVC words, of course, and we LOVED every moment!
We began with a little game using these CVC word slider cards.
Here is a pic:
To set up the activity, get a letter sized envelope and slip the CVC word slider card into the envelope. Your child then slowly pulls out the card, saying each sound as it appears. Once all three letters are out, your child tries to blend them together, and then read the word on the card!
Your child checks his answer with the picture at the end. In this case, the word is "get" and there is a picture of a girl "getting" the eggs from the hens, so that "she can make eggs on toast" for us 🙂 My little man has some funny ideas!
I'd like to pause here and give credit to my inspiration for this idea: The Measured Mom! She has heaps of amazing printables and we LOVE everything we have from her. She has a couple of sets of CVC word slider cards, similar to the ones I'm creating, but I decided not to use them as we are going in letter order to supplement our Preschool Letter of the Week units. If you'd like to check out the Measured Mom's CVC word slider cards, they are available here!
We also did some CVC puzzles using the same words on the word slider cards.
And then some word building fun! I collected all the letter tiles we need to make our 4 G words and arranged them in columns by beginning, middle and ending sounds.
 I then s-l-o-w-l-y sounded out each word and Filip selected the tiles and put them in the correct spots!
He had SO much fun with our CVC word work! Here he is, posing for the camera:
We started Day 2 with a Letter G Alphabet Maze.
He is getting so much better at following the uppercase-lowercase pattern! Big YAY for my little man!
Filip then did a pre-writing practice sheet (From the Pond).
Our Preschool Letter of the Week G Number Puzzle.
A beginning sounds booklet… cutting…
….pasting…
…scribbling colouring….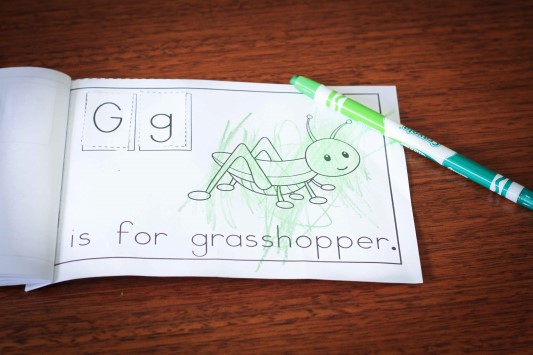 Our Preschool Letter of the Week G craft:
G is for Grass:
g is for glitter
Finished project:
  We finished Day 2 with some more word slider practice:
Day 3 started with some finger tracing using gel bags. To make a gel bag, simply fill a snap-lock bag with some hair gel, small amount of food colouring, snap the bag shut and mix the two together.
We used our  Alphabet Play Dough Mats under the gel bags to help with correct letter formation.
We also did a beginning sounds worksheet:
And then a Q-Tip Letter G page from 1plus1plus1equals1.
First, Filip traced the CVC words on the page, sounding out each letter as he went. This took much longer than I thought, but he loved it, so I won't complain!
He then coloured in the pics and cut out the CVC word strips one by one, gluing each letter tile in the correct order.
Voila!
We also played a Beginning Sounds game together. He had HEAPS of fun with it!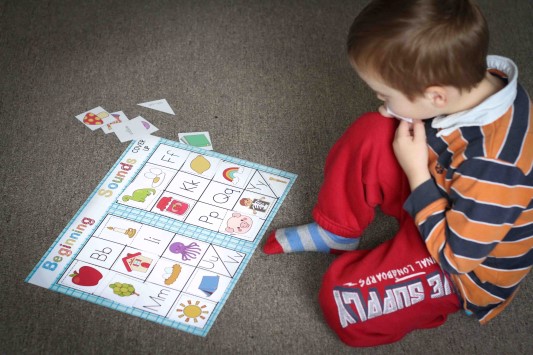 And then, we finished Day 3 with a g-g-g-garden project. We used the printables from Picklebums for this. Here is my creation:
Here is Filip working hard at shaping out the play dough:
And making a pattern with his flowers:
And there you have it! Our Preschool Letter of the Week G all done 🙂
18 Responses to "Preschool Letter G"