Sep 4, 2014
Preschool Letter N! It was an exciting week for us as we celebrated my little man's 4th birthday and the countdown seemed to never end – at least according to him! Stick around to the end of the post as we have a special giveaway for 4 lucky people!
But, first things first, here's what we did for our Preschool Letter N! I printed out a set of beginning N Vocabulary Cards and mixed them up with a couple of cards from other sets. (Throughout this post, click on the word links to take you to the complete unit in my TpT store, or the pictures to get the freebies!) I then covered the words with some sticky notes, like so…
Then Filip said the name of each picture, the beginning sound, and then peeled off the sticky note to check his answer. He LOVED the self-checking aspect of this activity!
We then sorted our cards by beginning sound and Filip noticed we had more N cards…
As with all our Preschool Letters, we brought out our N Playdough mat and learned letter formation first by finger tracing, then tracing with a white board marker and finally building it using whatever objects we found at home. Today, Filip used unifix cubes.
Then, we played our Sound Hound Game, which he continues to love. We are still at the stage where the break-up of sounds is very exaggerated. Our "sound isolation" goes something like this: "N-eck-lace", "Pri-n-cess", "ca-bi-n".
We did a Beginning Sounds page using our dot-paints. They are still an all-time favourite for my little man!
He then searched for lower and upper case n…
He did a lower case writing page from the Measured Mom.
And then we moved on to our focus number for the week: number 6! Filip brought out the playdough this time…
We finished Day 1 with our Preschool Cut and Paste Number page.
We started Day 2 with some more finger and white board tracing and then Filip used Lego bricks to build the Letter N.
Filip then used this funky stamp to make his way through our Letter Maze...
And then we used glitter paint to do this Q-Tip printable from 1plus1plus1equals1.
We moved on to some word-building and Filip ordered our beginning N CVC puzzles to make words.
Here are the 4 words he made this week… He was intrigued by the word "nun", wanting to know if that is a teasing word for the lady! I think he thought it was "none"! Gotta love a child's sweet innocence 🙂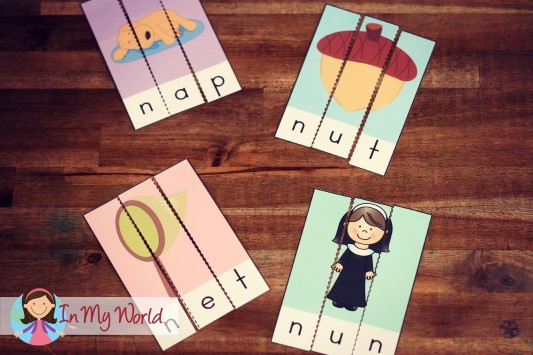 We then brought out our CVC Phoneme Segmentation cards and Scrabble letter tiles and built the words below:
We are still at the stage where I isolate each sound as he points to the sound boxes, but he is definitely getting close to being able to do this independently!
We then read some beginning N CVC words using our Word Slider cards.
After, we moved on to our focus number and Filip traced the number 6 and drew the circles on the ten frame using a dry-erase crayon.
He then stamped his way through our Number 6 Maze:
And then got awesomely creative with our Number Concepts page… You see, he didn't want to leave any white spots on the hands…
We started Day 3 with our beginning N CVC words cut and paste page.
End result!
I introduced a new booklet this week: an -AP Word Family Flip-Flap Booke! Filip LOVES booklets and often asks for his own readers when his older brothers and sister read their books from school. While this is not exactly what he had in mind, I think it's a good fit for him at the moment.
To assemble the booklet, cut out the letter flaps and picture flips, like so:
Then stapled the letter flaps to the left and the picture flips to the right. All done!
Filip read the words made as he turned the letter flaps, and then he matched them up to the corresponding picture flip. This was a big success for my little man and he felt so proud he could make matches!
We also did a Number 6 flip book, dot-painting the pictures and counting to 6 each time.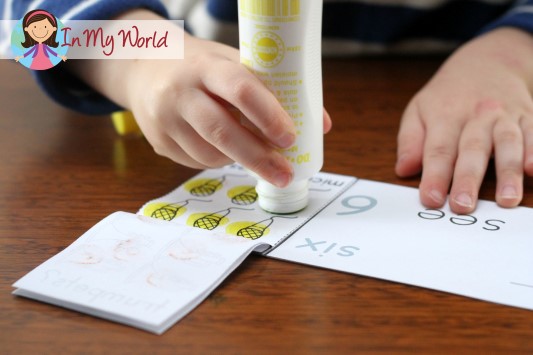 We finished our Preschool Letter N with an alphabet craft. We did N for night…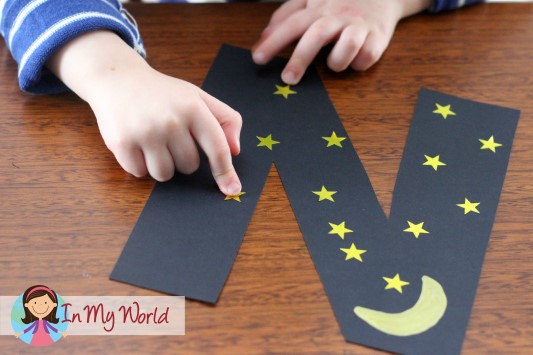 And n for numbers…
And, at the end of the week, my precocious baby turned 4! Here's a pic of the little guy and me – check it out, he even brushed his hair for the occasion 😀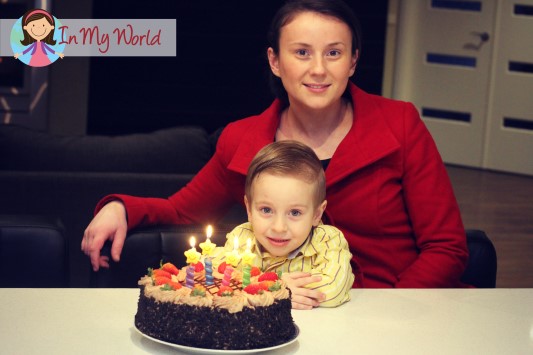 To make Filip's birthday extra special, we would like to give 4 of our readers and Facebook fans the opportunity to win any item of their choice from my TpT store!
To enter this giveaway:
1. Head on over to my store (click here!)
2. Comment below with the product name, URL link and your e-mail (or you can contact me at lavinia@inmyworld.com.au and leave your e-mail there).
3. Check my Facebook page in 48 hours to see if you won!
Here is a pdf. with all the FREEBIES from this post. (Please note: this freebie pack DOES NOT include freebies linked to my online store.)
20 Responses to "Preschool Letter N"