Jan 11, 2017
Sight Words and Word Families Week 2
You know what they say, "Better late than never!" I popped in today to show you what Filip and I did for Sight Words and Word Families Week 2 and to give you some free samples of what we used to help you decide whether you'd like to try these activities or worksheets in your own classroom or home.
You can read about Sight Words and Word Families Week 1 here.
Week 2 sight words: can, me, the, you
Focus word family: an
After we took down the first week's worksheets, I glued them into a project book. As well as displaying our sight words and word family words in the room, I glued them into the project book like so.
(Click the photo to download the sight words and word family word wall. Click here to purchase the complete Pre-Primer Sight Words Word Wall packet and here for the complete Word Family Posters packet.)
Many of the activities we did this week are the same as what we did during the first week, but since it's been so long since I blogged about the first week, I know you won't mind seeing the activities again.
We started each day with a Sight Words Word Find.
(Click the photo to get this week's word find freebies.)
We then moved on to doing a Sight Words Cut and Paste activity. I love these worksheets as they focus on correct letter sequence and help children to grasp the concept that letter sequence is vital when reading and writing.
(Click the photo to get this week's sight words cut and paste worksheet freebies.)
Then Filip did a Sight Word Q-tip activity. Of course, this was always his favourite because he got to paint and sprinkle glitter and all that stuff we all love 😉
(Click the photo to download some q-tip sight word freebies.)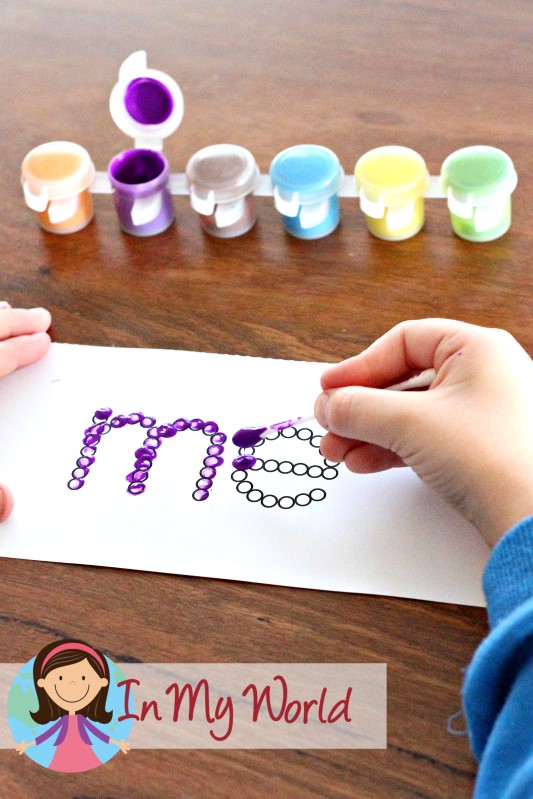 We did the above sight word activities Monday – Thursday. Each day, we also read from my Sight Words Fluency Reading Homework packet. I LOVE this resource as it incorporates both sight words and CVC words. AND each page builds on the previous one, making sure that sight words learnt in the past are never forgotten!
This week, I printed out all the pages and bound them into a booklet. I think I like having them like this more than putting them into plastic sleeves.
(Click the photo to get the pictures pages.)
Friday, I decided to test my lil' man to see how he was picking things up. He did 2 pages from the Pre-Primer Revise and Assess packet.
It took him a little while to understand what the word search was all about, but he quickly got how to write the missing words for the bottom activity.
(Click the photo below to get the 2 free revise and assess sight word pages.)
For the second page, Filip only needed help with unscrambling and writing the word correctly. And colouring the flower. Let's be honest – colouring is really not his favourite thing!
We finished off our sight words study by reading together a Pre-Primer Sight Words Comprehension reader.
(Click the photo to get the two booklets pictured.)
Each day, we also did a word family activity. Monday, we did did a Word Family Word Building Activity. We had previously used small letters, but this week I decided to go with alphabet stickers.
(Click the photo to download the word family word building mat.)
Tuesday, we did a "Who Lives Here?" flip up flip book. Filip did not understand what this was about until after it had been put together. I wrote the words on the front and, once I lifted the flap to show that it revealed a picture of the word on the house, he had his light-bulb moment.
(Click the photo to get the free flip book.)
Wednesday we did a Word Family "Color It!" worksheet. I know. He coloured everything green. I really wonder how any child of mine could CHOOSE to NOT use different colours to make things look pretty!?!
(Click the photo to get the free word family Color It! page)
Thursday we did a Word Family cut and paste sorting activity. Obviously, I helped him colour the pictures. I didn't want to risk another "green" incident 😉
(Click the photo to get the free word family cut and paste activity.)
Since we did two sight words worksheets on Friday, I decided to do a fun sorting activity for our word family part. I wrote some CVC words that we learnt this week and some from last week on some icy-pole/popsicle sticks and printed off some cute roof templates I had made and voila – a fun hands-on sorting activity. After Filip had sorted the words under the correct roof, he wrote them a recording page.
(Click here or the photo to get the complete roof templates and writing pages.)
Alrighty! So, that's our Sight Words and Word Family Week 2 all done! I hope you found the freebies from this post helpful!
30 Responses to "Sight Words and Word Families Week 2"