Feb 14, 2014
Allow me to begin by telling you how EXCITED my little man was this week! He L-O-V-E-D doing "school work" (worksheets) and "crafts", this is, anything involving glue!! He thoroughly enjoyed all the activities and that left me feeling like one happy mummy. Having said that, my explanations were too long, according to him. Filip is a do-er. If you put paper and some materials in front of him, he'll start masterpiece-ing away before you can even open your mouth to explain anything. Now, don't get me wrong; I'm all for creative work and allowing my kids to express their individual styles in their creations, but we are learning to form the letter A correctly. I know some kids can get pretty creative with their letter formation, but it's harder to "unlearn" incorrect formation than to teach correct letter formation from the start. And we are definitely going to learn correct formation!
Here's a peek into our week!
I printed off a set of Alphabet Play Dough Mats, laminated them and we were ready to begin. Here is my little man using his finger to trace over big A and little a. He did this a couple of times. I used verbal cues to remind him of correct formation. Uppercase A went something like this: Start at the dot – go all the way down – stop – jump back to the dot – go all the way down – stop – jump to the middle and across. Lowercase A was: Start at the dot – go all the way around – go all the way up – stop – come back down – stop. These cues were of great help and I used them all week.
Next, he used a Whiteboard marker. He enjoyed this much more than the finger tracing.
We then moved on and did some "Dot Painting" using bingo dabbers to aid letter identification; he used green for the uppercase letters and red for the lowercase letters. I used a set I created (available here).
We tried some pre-writing practice using a set by Mel (From the Pond), but Filip was not keen on tracing over the lines. I love these worksheets, however, and I'd like to give them another try next week, but perhaps using something more interesting than textas. I'll see what I come up with by next week!
We also did a craft which Filip absolutely loved. I cut out the letter shapes for him and he glued on some tissue paper to make an alligator and an apple.
And here is the final result! A fantastic team effort, if I do say so myself 🙂 If you'd like the templates for the letters, you can get them here.
I set up a mini sensory tub using an Alphabet Find It game by Carisa, and Filip enjoyed playing this with his older brother David (Grade 1). They took turns digging through the mixture of beans, peas and lentils to find the hidden vocabulary cards, then matched them to the picture on the big poster. They played this several times throughout the week. A big hit for sure!
Here he is showing me where all the little a's are located on our vocabulary cards.
Here he is doing a Beginning Sounds worksheet using stamps. He is not  a fan of colouring in.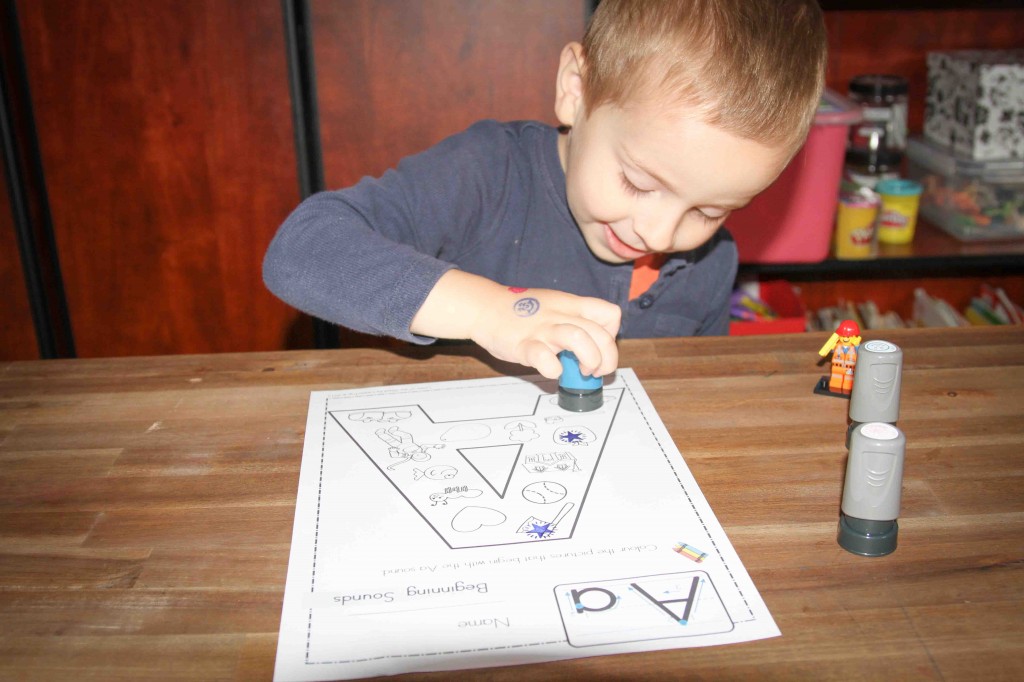 Uppercase tracing using printables available from The Measured Mom. I love them and Filip had a great time completing the worksheet! We began by gluing the inside of the biggest letter and sprinkling with glitter, then tracing the remaining letters with textas.  He tends to stick his tongue out when he's concentrating!
Filip loves play dough – which preschooler doesn't! He practiced his letter formation with play dough this time and I do believe it was one of his favorite activities.
And, because A is for apple, we also did some counting using apple number cards (available here), play dough and small gems. I love this as it was great for his fine motor development too!
Another letter identification worksheet; an alphabet maze this time. He wanted to use stickers to cover all the Aa's… Now, the worksheet asks for him to go in an A-a-A-a pattern from one side to the other – he didn't, just randomly covered each letter as he found it.
A beginning sounds cut and paste practice worksheet…
Q-Tip Letter A to practice a bit more on his fine motor skills. As far as Filip is concerned, anything you do with paint is fun.
And we finished off our Preschool Letter A week with an apple tree craft. I traced his hands for the tree trunks and he glued on some green tissue paper for the leaves and red sequins for the apples.
Well, there you have it: our Preschool Letter A! I'm going to be honest and say that I did not prepare for the week as much as I would have liked. However, it turned out to be a fun week and Filip enjoyed it greatly: in the end, I suppose that's all that matters! I look forward to next week and I hope to get a bit more time over the next few weeks to search Pinterest for different ideas for games and activities and even worksheets. Actually, to be honest again, I was not sure whether Filip would even be able to work with the worksheets I used as I made them for older kids. They were all that I managed to get together before the week began, but he tackled them confidently, with excitement and I think he liked that the idea that he could do "school work" like the "big kids".
If you have any ideas or suggestions for games, activities, worksheets and everything in between, I'd LOVE to hear from you! Please leave me a comment 🙂
12 Responses to "Preschool Letter A"