Mar 17, 2014
We started out Preschool Letter of the Week E with an alphabet pinwheel. I would have liked to start with our beginning sounds basket, but all I could find in our house were eggs and envelopes…. and I wasn't sure whether filling a frail basket with some eggs for a preschooler to handle would have been all that great of an idea… I suppose I could have boiled them.  But, of course, I didn't think of that then! Oh well – moving on! Here is what the pinwheel looked like. (You can get the E pinwheel here). I showed Filip how to rotate the second wheel and he loved watching the images appear in the little window.
We then moved on to our Alphabet Play Dough Mat. As usual, he started by finger tracing both uppercase and lowercase e, and then he used play dough to form the letters. I'd like to mention here that these mats are one of my favourite tools for teaching preschoolers their ABCs!  Not only are they fun and help with development of fine motor skills, but they are also very practical and can be used in many different ways to focus on different skills and concepts! I personally LOVE the directional arrows which show kids how to form the letter correctly AND the fact that they are placed on handwriting lines so that children can begin to understand that each letter has a specific height and has a correct position on the writing line. While we are not focusing on the writing line at the moment, I'm hoping really bad quite certain that when we get around to reading and writing words on a handwriting line, he will not struggle too much with letter placement.
Anyhow, here is the end result!
We tried a new letter recognition worksheet this week by Mariela Santillana, which you can get for free here. Filip loved it! He traced the letters at the top using his "smelly" markers, and then he dot-painted the capital and lowercase e's.
And then he used a stamp to fill in the big E. End result:
Filip has been playing with his building blocks a lot this week, making houses and all sorts of shapes, and I thought it would be nice to extend his building experience to include our Letter of the Week! I saw this idea somewhere on the net and came up with my own version: Letter building for cubes!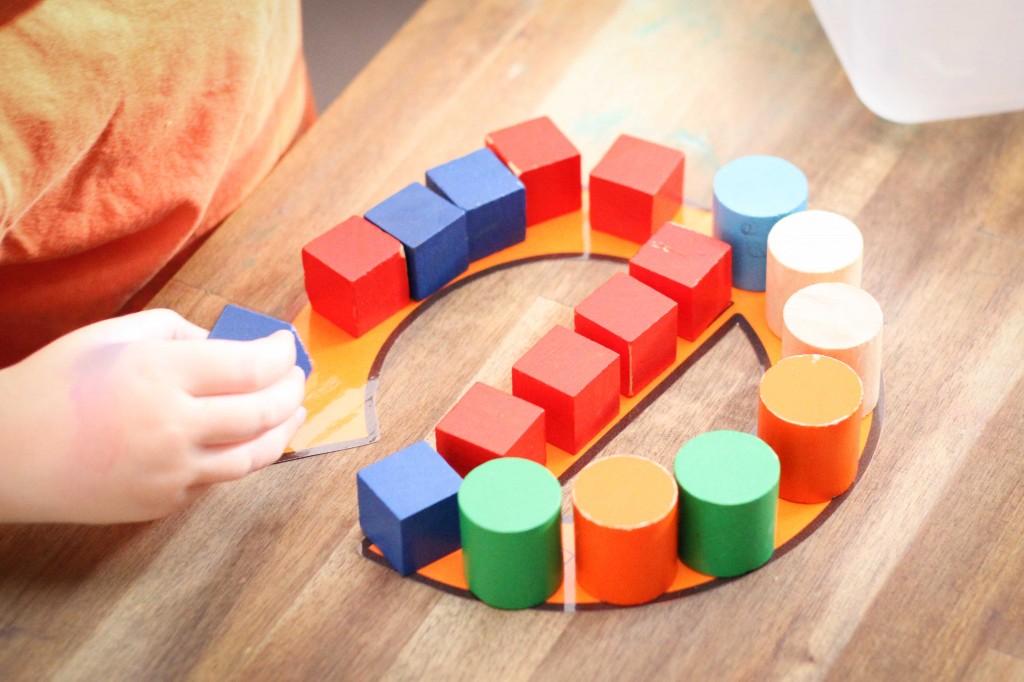 We finished the first day with our Preschool Letter of the Week E craft – "E" for elephant and "e" for echidna (an Australian ant-eater type of animal).
We started our second day with our Beginning Sound Scoops. This time, I turned the scoops picture-side down and Filip had to turn them over and tell me whether they started with the "e" sound, or with a different sound.
We also did our beginning sounds colouring page. He is more willing to colour pictures in, and I think that's partly because he's using crayons instead of pencils 🙂
Uppercase letter E tracing using the printables from The Measured Mom.
Here is my lil' man working on his Preschool Letter of the Week E Number Puzzle. I have started putting adhesive magnets on the back of each strip and use them in a baking try; Filip was getting frustrated with them at the start because the strips kept moving out of place but the magnets on the back really help to keep them in place .
All done!
We finished Day 2 with a pre-writing practice sheet (From the Pond).
Filip started Day 3 of our Preschool Letter of the Week with an alphabet maze.
Because he likes books so much, I thought we would try out this alphabet mini book. It focuses on letter writing, beginning sounds and letter identification.
As with other books he makes, he couldn't wait for Sam to come home and show him what he had done.
Filip wanted to use some glitter glue to complete the Q-Tip Letter E page.
His fingers got tired of squeezing by the end of it and he rushed the last bit!
We also did our flip book and he was so proud to tell Sam that he'd learnt a new word. Says my little man to his dad, "Do you know what THIS is?? It's an egg-plant!" Here is a pic of him reading it to me to make sure he would get it right for when Sam came home 🙂
To finish off our Preschool Letter of the Week, we tried this egg craft! Using this template, I squeezed out some glue and we stuck some sequins on; "Yay! Good fine motor practice!" I was thinking to myself! However, he soon became unimpressed by the amount of glue that we sticking to his little fingers and said he didn't want to do it anymore. So we brought out some glitter. He LOVES glitter 🙂
And here he is continuing to play with the glitter bottles long after we finished the craft – that's how much he loves the thing!
The end 🙂
22 Responses to "Preschool Letter E"